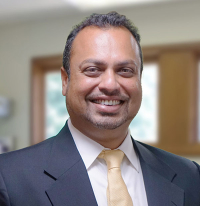 Dr. Syed Masihuddin graduated from NYU College of Dentistry in 2002. His practices encompass all aspects of dentistry with an emphasis on cosmetic and dental implant care. While at NYU, he spent two years training in dental implants and received further training at St. Joseph Hospital in New Jersey, associated with Seton Hall University. He also received training in BOTOX® and dermal fillers from the AAFE (American Academy of Facial Aesthetics).
Dr. Masihuddin has been recognized with various awards in dental implants and cosmetic dentistry, including the ICOI (International Congress of Implantology) award of diplomate in Berlin, Germany. He was also selected as top dentist of Pennsylvania in 2011 and as top dentist of New York in 2013.
Dr. Masihuddin is a fellow of the American Academy of General Dentistry (AGD). Currently, he is also a member and in good standing with the ADA®, AACD, ICOI, AAFE and AGD, where he upgrades his level of expertise in all areas of dentistry. His offices have state-of-the-art technology, ensuring that patients get the best quality care in a comfortable setting.
Meet Our Team
Our friendly team is dedicated to giving you the best possible experience here at Matamoras Dental. We take the time to get to know you and your needs. Call our office today at 570-491-4012 to schedule an appointment with our dentist, Dr. Syed Masihuddin, and learn more about our dentist in Matamoras, Pennsylvania.
Check back soon to meet our team!